Attar, also known as 'ittar' or 'itra' is derived from a Persian word 'itr' meaning 'Perfume'. Nowadays like most of the things, perfumes are made using chemicals, but Attars are 100% pure and made with the love of nature.
Attars are technically natural perfume oils obtained from flowers, herbs or barks. Popular in Middle-east and south Asian countries like India, they are now also quite popular in developed countries like USA, UK and Australia since they are long-lasting, eco-friendly and free of alcohol.
Why Indian Attars are so Famous?
Indian attar perfumes are famous worldwide because they are still made using the same method designed about 400 years ago. The city of Kannauj, also known as 'Perfume city of India', is home to this age-old practice. Despite being in a highly-competitive market with cheaper artificial alternatives, Attars have conserved the fragrance of the earth.
There can never be a contest between them since attars will always be superior in terms of quality.
You cannot resist yourself from becoming a regular user if you just use it once.
Most Famous Indian Attar Perfumes you should use
Attars are characterized on the basis of raw materials used to produce them. Following I provide names of top attars made in India that you should try at least once in a lifetime-
01) Mitti Attar (The Scent of Rain)
Who doesn't like the beautiful smell of earth after the first rain of monsoon? Scent of the dry earth turning wet gives you a sense of rejuvenation, which is captured in this unique attar. You can consider it for daily use because of the soothing aroma which acts as a stress-buster.
Best Weather – Summer is the best time for using this one-of-a kind perfume since it provides cooling effect to the body.
02) Ruh Gulab (Rose Attar)
The smell of rose is enough to experience the bliss of heaven. Extracted from the Indian Rose Damascena, it is one of the most pleasant attar ever made.
Rose flower represents love in most cultures and the fragrance of it is acknowledged by many as the sweetest scent of nature. It is best suited for special occasions such as weddings, family functions or just for a meeting with your loved one.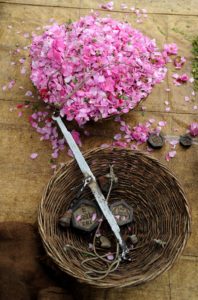 Best Weather- Being a 'Cold' attar, you can prefer it during the summer but it can also be used in all seasons, especially for your memorable moments.
03) Ruh Khus (Vetiver Attar)
Made from the roots of vetiver plant, this attar is known for its quite rich aroma. It has an earthy, woody smell and is also known as the 'Oil of Tranquility', an oil to calm your body from the hassles of everyday life. It is one of the ancient attars used in India and has still not lost its popularity among regular attar enthusiasts.
Best Weather- An all-seasons' favorite, this attar will be perfect for you if you want something for both daily usage and exclusive events.
04) Saffron Attar(Kesar or Zaffran Attar)
Saffron is known for a being a rare and precious spice found on our plant. Found in northern India particularly in Kashmir, raw Saffron is an expensive thing and thus its 'attar' is also costlier than many others available in the market.
Because only a few people can afford its pleasure, Saffron Attar symbolizes a lavish lifestyle. The same reason is why it used in many religious ceremonies.
It has a spicy and floral odor. Also, this attar is favored in aromatherapy as well. Not only that, it has many medicinal applications also. It is recommended for you if relaxation of mind is your main purpose.
Best Weather- Characterized as a 'warm' type of attar, wesuggest you to use this one mainly in winters. However, it is also ideal to enhance yourcelebrations.
Buy Saffron Attar Perfume Oil Online
05) Jasmine Attar (Kesar or ZaffranAttar)
Jasmine is one of the most known and cherished flowers found on our planet and the same value its 'attar' has. It creates a romantic floral ambience and its sweet and sharp essence is adored by both men and women. Like most of the other attars, it is also preferred by many for its stress-busting attribute, which can relax and refresh your mind and body at the same time.
Best Weather- It is suitable for almost every situation; you can call it 'the all-rounder of attars.'
Buy Jasmine Attar Perfume Oil Online
So, which Indian attar is the best?
There is no definite answer since each person is unique and they have their own preferences and likeness. But in a nutshell, go for Mitti or Ruh Gulab if you want something specific for hot climate, Saffron is best for cold ones or you can choose between Jasmine or Vetiver if want something for all seasons and purposes.
Attars will always be a better choice than synthetic fragrances because they are closer to the essence of nature. When you will try them once, you will never look back at other options. They make you smell great but also feel great, unwinding you from your tensions side-by-side.